Rohara Bacara SOLD
Born: 2001
Breeder: Rohara Arabians, USA
Owner: Sandra & Nils-Arne Holmudden
Padrons Psyche, ch, 1988

Padron, ch, 1977

Patron, ch, 1966

Odessa, ch 1973




Kilika, b, 1982

Tamerian, b, 1967

Kilifa, ch, 1972

Sidia,b, 1994

Sidi-Brahim, gr, 1974

Jacio, gr, 1968

Dalia IV, ch, 1962

Fatima Ala, b, 1985

Amir Al, b, 1981

Ala Faddaya, b, 1977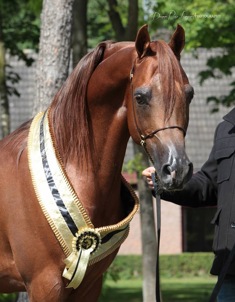 Show result:

2014 Nr.4 and he got the titel: BEST MOVMENT MALE 2014. Top 10 in the championship, World Championship Paris.

2014 Class winner, 93.17 points, All Nations Cup~Aachen, Germany
2014 Class winner, and Silver Champion, Midland Arabian Festival, Great Malvern UK
2014 Bronze Champion, Bruges, Belgium
2014

Class winner and Gold Champion

Stallion

,

Wales & West, Clevedon, UK

2014

Gold champion stallion,

Tulip Cup, Holland

2011 Swedish National Champion Stallion, 91,67 points, Strängnäs
2010 Senior Silver Champion Stallion, Danish International A-show, Middelfart, Denmark

Senior Gold Champion Stallion, 92,83 points, International A-show Wels, Austria

2009 Senior Gold Champion stallion, winner of the class Stallions 8-11 years, Swedish National, Halmstad
2008 2nd. place stallion 7-10 years, 93,6 points. All Nations Cup, Aachen, Germany

3rd place stallions 7-8 years, 92,1 points. Dubai International Arabian Horse Championship, Dubai.

2007 Senior Champion Stallion, 91,63 points. Vilhelmsborg, Denmark
2006 Senior Champion Stallion Reserv, International B-show, Drammen, Norway.
2005 National Champion Stallion, Elmia, Jönköping

Winner of the class 91 points, Scandinavian Open Championship, Blommeröd, Sweden

Champion Stallion Reserv, Kumla, Sweden

2003 Regin 12 Champion Colt, Florida.
Rohara Bacara's sire Padron Psyche has together with his son Magnum Psyche been the most popular Arabian stallions in Amerika and Europe during the last decade.

Padrons Psyche is a son of the legendary Padron, Scottsdale Champion Stallion, Canadian National Champion Stallion and US National Champion Stallion, who has Russian bloodlines through Patron-Aswan. Padrons Psyche´s dam Kilika was born in USA, but with pure Russian lines. Her sire Tamerian was imported to USA from Russia and he was a highly valued son of Arax. Kilika´s dam Kilifa was born in Germany, but both her sire Kilimanjaro as well as her dam Kapelka were born at Tiersk in the former Soviet Union.

Rohara Bacara´s dam is Los Acres Arabians beautiful Sidia, one of many successful offspring by the Spanish Sidi-Brahim and out of Fatima Ala. Sidia reminds a lot of the charismatic Fadjur, which is represented on her dam-line, a stallion that is highly regarded at Los Acres. Her full-brother Julio Brahim is a stallion that Los Acres retained themselves as a Sidi-Brahim was born at Diego Mendez in Spain and he is a Champion halter horse both in Spain and USA as well as a performance Champion.

Sidia was on lease to Rohara Arabians to be bred to Padrons Psyche during two seasons and the results were Rohara Jiapur and Rohara Bacara. Rohara Jiapur is a Scottsdale Top Ten Halter Gelding AOTH, Region 12 and 15 Top Five Arabian Hunter Pleasure Junior Horse, Region 15 Reserve Champion Two-Year-Old Gelding, National Top Ten Sport Horse Under Saddle Junior Horse.

Sandra ArabianS are the new proud owner of Rohara Baccara, he stands at Chris Lowe Bloodstock in UK. For breeding, we have frozen semen.

Don't miss the opportunity to breed your mare to this beautiful Padron Psyche son who proofs his quality, not only by his own successful results in the show ring, becoming International and National champion over and over again, but almost all of his offsprings are champions!
Welcome!
Sandra Arabians,
Chris Lowe Bloodstock